BRAND NEW PRODUCTS FOR DAVE ...


Dave is testing several products for Dave Quinn this year and onwards, so take a look at this page before you make your next purchase, as things will be tested on a frequent basis ..
For the new season Dave has linked up to The Bike Factory through Dave Quinn and is doing many Product tests on equipment for Dave .. He will be putting the BEST PRODUCTS tested by Dave on this page .. All the products listed will be endorsed by Dave and you can get them from THE BIKE FACTORY on 01244 317 893
HERE'S THE FIRST OF MANY ….
 Well I was 70 in October last year and I thought I might ride Ceepo's for the remainder of my Cycling life.. BUT, I have always wanted a brand new COMPLETE bike as the last one I had was in 1975 and that was my TI Raleigh Team Bike ..
As some of you know I have been doing some product testing for The Bike Factory (01244 317893) and Dave Quinn . I have tested Specialized lights and the wonderful WAHOO Elemnt Bolt Computer. I will be testing more equipment for him in the very near future so keep watching guys !
For 2020 I have a few things planned. A couple of goals I'd like to accomplish and to this end I wanted desperately to get a complete bike I've been looking at for ages . I have been a huge fan of Fabian Cancellara and Peter Sagan( who still uses these bikes !)
I am going to cut back on the 40,000 miles I have done every year for the past 5 years at least and get some upper end speed I'll need. So the need for a new complete bike. I had had enough of getting a frame and building my own bike ..
Dave gave me the opportunity to choose the bike I've dreamed about for a couple of years by offering me a great deal and a scheme to pay for the bike which makes it a lot easier for me and I chose …..
THE SPECIALIZED S-WORKS VENGE ! (52 cm) With some very new things for me to try .. DISC BRAKES ! Di2 Shimano ! Etc Etc .. THIS IS ONE BEAUTIFUL BIKE and the first time I rode it (after getting my 14cm stem fitted) I did 6 PB's on a very small loop …https://www.strava.com/activities/2995955483
I have ridden it only twice now as I've only had it a couple of days , but WHAT A BIKE .. It's fast, straight, stiff in the lateral and comfortable in the vertical .. JUST BLISS .. It looks so clean and FFFFFAST as there are absolutely no cables visible and the Cockpit is a work of art ..
I'll be telling you more about this work of art and very workmanlike bike as I ride it , so watch this space for more feedback from me .. All I can say at the moment that it just rides like a dream and looks WONDERFUL … The nicest looking bike out there methinks !
With thanks to Dave for making it easy for me to pay for it and the guys at the Specialized bike store at The Bike Factory for setting it all up for me .. THANKS GUYS !
If you'd like more info, or you'd like to get hold of this stunner, call me on 07971 416667 or call the guys at the Specialized Store in Chester on 01244 322220 .. They are a VERY helpful bunch of bikies !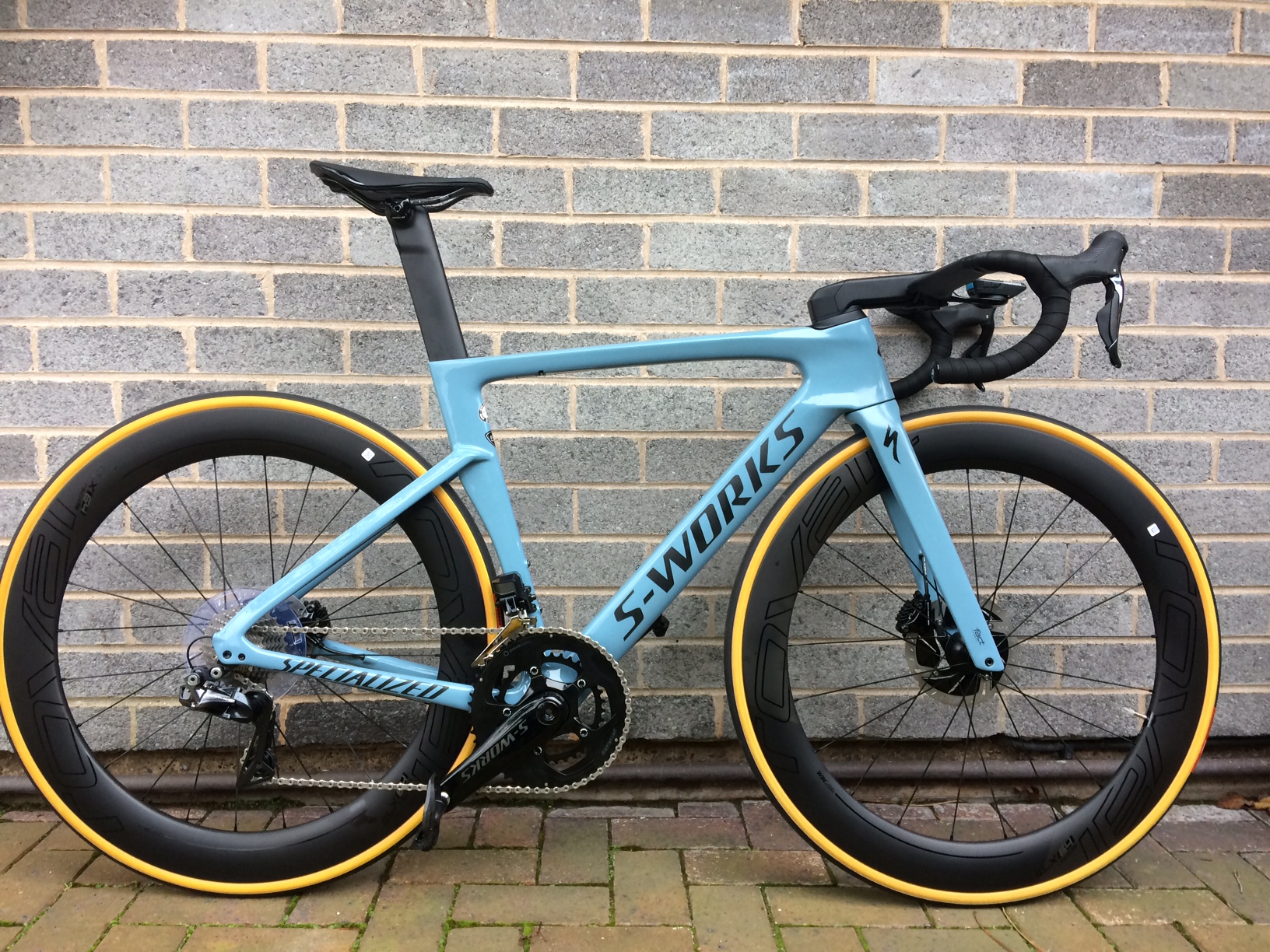 Pics by Anthony Holmes Photography
Please call Dave or Chris for more information and prices on 0151 336 3323.