One To One
One to One Coaching is exactly what it says , no more, no less….. You'll find the phrase "KEEP IT SIMPLE!" being used a lot in Dave's coaching philosphy. That, and Dave's catch phrase and CREDO .. "AIN'T NO REWIND !"
There will be daily schedules from Dave to suit your own life style and a proper structure to the year ahead. From winter "base" training, pre season sessions, gym work-outs etc. In season training includes peaks and tapers for your major targets throughout the year.
Your personal schedules will arrive every week on time, and all you have to do is follow the prescribed sessions and send your feedback once a week. Dave is always available to iron out any problems you have with your schedules or any other queries you may have.  Far more than a coach, Dave is a great "mentor".
Dave also realises that each athlete he coaches is an individual and is treated as such. He keeps his one to one coaching to a minimum of riders, so that he can give each one individual attention. Dave knows the pitfalls of "overtraining", having been there himself, and is careful to avoid this. Hence the recovery days and the "Adaptation Weeks". He also has to have a LOT of communication with his athletes and this is done by telephone , email or Skype
Each and every athlete knows that, should they have any problems, Dave is "JUST A TELEPHONE CALL AWAY" at any time of the day or any day of the week. Dave will either be there, or he will get back to that athlete on the same day, WITHOUT FAIL !! That's a given with Dave Lloyd Complete Coaching. Again, unlike other coaches there are no constraints on the time like "you must only email or telephone once a week, before 7.30 pm"  etc. etc. Dave has the enthusiasm for the sport no other Coach has and will be only too willing to answer and calls when the ATHLETE wants …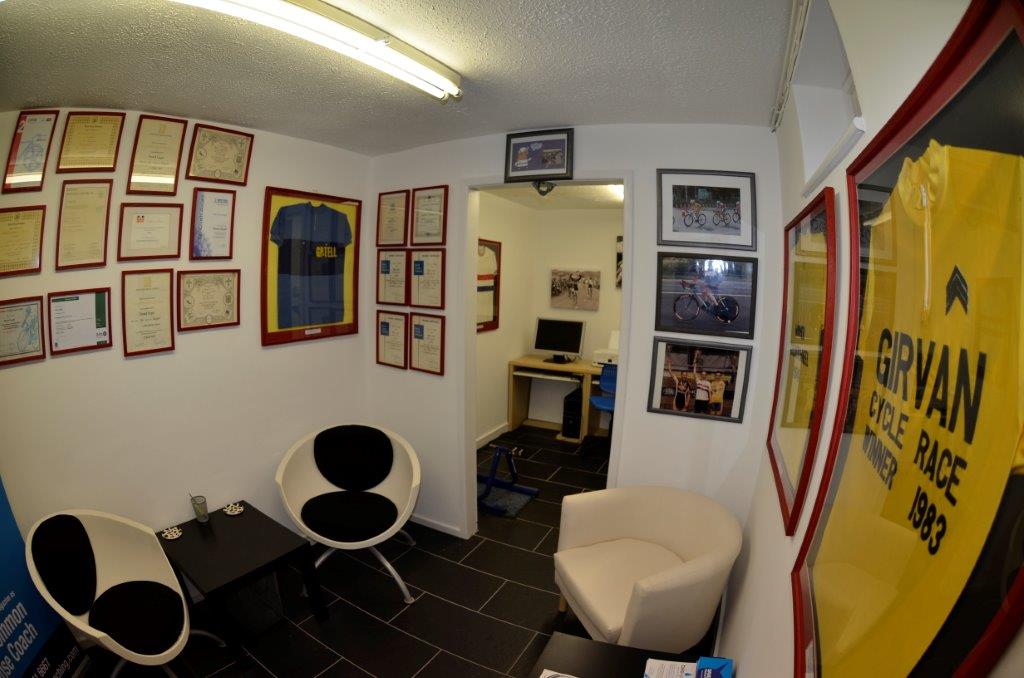 After the initial consultation, Dave gives each athlete a three month "getting to know you trial" both for him and the athlete. After this time the athlete can come back for a Ramp test to see if progress has been made and a talk to Dave to see if all is well. It's at this time that the athlete can judge whether to carry on with the training, or leave to choose another coach, with no hard feelings on both sides.
"WHAT YOU SEE IS WHAT YOU GET!" WHAT A BREATH OF FRESH AIR … "KEEP IT SIMPLE!"
| | |
| --- | --- |
| Initial Consultation and *** Physiological Testing | £295 |
| One to One Coaching | £150 per month |
| Subsequent RAMP tests/Appraisals | £60 |
| Supervised Bike Rides with Dave | £40 an hour |
*** Physiological testing is simply a RAMP test … For those who are new to this sort of Scientific Testing , the Ramp test is a fantastic piece of Software as used by the British Cycling Team and the Sky Team … This particular Software was written by Peter Keen and Malcom Firth and will give you all the Information as seen below .. The test is very simple.. You will use your own bike and warm up on the Computrainer for 10-15 minutes and then , when the RAMP test is brought onto the Monitor, the bike will be Calibrated and then all you do is choose a SPEED you can handle without getting out of the saddle and no change of gearing,, We then begin at 100 Watts and you hold the speed you have chosen for AS LONG AS YOU POSSIBLY can , as the Watts will increase by 20 Watts per minute (hence the name RAMP TEST!)  … Until your legs or your Cardio Vascular reaches it's max! Don't panic as this doesn't take that long , but it HAS to be 100% .. Dave will then work out all the relevent info and this will be your "Form" at that moment in time .
 *** NEW***  From Dave Lloyd Complete Coaching for 2017 ..

D.Y.N.A.M.I.C.S. (Do You Need A More Individual Coaching Structure)
A brand new service to help you with your specific Cycling "Goals" and one that gives you a 3 Month Structured Training Coaching Package , especially formulated by Dave (as a less expensive alternative to his One-To-One coaching) .. A superb 3 month structured Coaching Package .. All for as little as £80 per month for three month Coaching and a mere £250 for the Initial Assessment and Test to give you all the Physiological answers you'll need and the Power and Heart Rate Zones , making sure every minute spent on the bike training is worthwhile and working to your "specific Goal"
| | |
| --- | --- |
| Initial Assessment and Test | £250 |
| 3 Month Coaching Package | £80 per Month |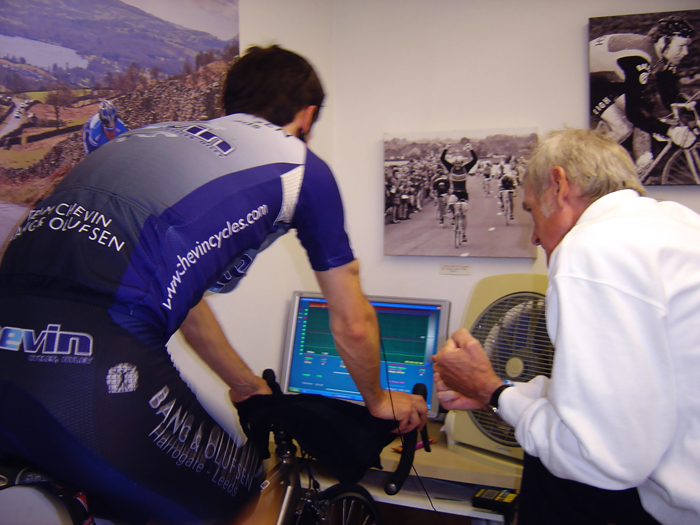 Consultations
This is Dave's most popular service – just read the testimonials. This is the best money you will ever spend as a bike rider! Dave believes this is an invaluable service, especially for the novice, or the first timer with a coach. Also, it's not just the racing cyclist who can gain an unbelievable amount of knowledge from these Consultations. Sportive riders have used this service to great effect and gained untold value from it. Dave has so much knowledge to impart as you will see from his CV's and he is still very active in the Sportive scene, getting fastest age grouper in La Marmotte 2009 ! Just look at Dave's CV's if you need convincing about the credentials of this enthusiastic, positive, "Common Sense Coach".
The consultation consists of a full Ramp test and then a 4 hour talk with Dave about your aims and ambitions for the season and a constructive plan for you to take away with you to achieve your goals. You cannot fail to pick up on Dave's enthusiasm and professionalism. Be inspired and book your session now. You will get all the following from the consultation:
Maximum Heart Rate
Maximum Power Output
Power to Weight Ratio
6 WCPP Training Zones .. Power and Heart Rate
WCPP Fitness Index
VO2 Max. (Estimated)
Full constructive advice for your season or you opt to come onto the one to one coaching where you will receive a weekly training plan etc. (See "One to one coaching".)
Just great value from " THE COMMON SENSE COACH!"
| | |
| --- | --- |
| Consultation & Analysis Session | £295 |
| 4 Hour Consultation + Ramp + Supervised Bike Ride with Dave | £395 |
Ramp Tests
This test is done using state of the art computer software, written by Malcolm Firth, on a Computrainer. You will leave with the following information :
Maximum Heart Rate
Maximum 1 Minute Power Output
Power/ Weight Ratio
VO2 Max
WCPP Fitness Index
WCPP 6 Heart Rate or Power Training Zones
We can also offer state of the art Video Analysis which enables yourself and Dave to closely monitor your cycling technique, giving you more understanding of any changes that may be needed to improve your performance.
| | |
| --- | --- |
| Individual Ramp Test | £125 |
Day Rides With the "Man" Himself …

I have had such a great response from my athletes to my "DAILY RIDES " I have decided to make this a "SERVICE" to other riders who would like to tap into my 46 years of experience as a bike racer and Professional Bike Rider .. You can spend a day with me and go for a ride on the flat or the hills for any length or time and I will assess your riding position, give you as many tips as I can from 46 years of riding . I will assess your climbing , descending and riding on the flat on a wheel .. We will do some "set piece" riding or anything you would like to practice ..
After the ride you can have a shower , some grub from Chrissy and then debrief and open it up to any questions you have , or have from the day … All this for only £150 .. You won't learn more in a day from any other coach as I have probably the most experience of any coach and from my background riding all types of events at World Level ..
THE BEST £150 you will spend on your bike riding … You will also hopefully be inspired and absorb some of the huge love I have for this wonderful sport we share …
Position Analysis
This can be done using your own bike on the Computrainer, or on Dave's Frame Fit Jig. Whether it's a road, track or time trial bike, you will get a full scale drawing of the frame with the guarantee of the "Perfect Fit". Don't forget, also, that Dave actually hand built his own frames for 13 years, and has studied positions all his cycling life, so you don't get much more experienced than that!! You can take this full sized drawing to any frame builder you wish in order for them to build you your "perfect frame"!
Note: One of the most important aspects of your cycling is your position on your bike. Whether for Road, Time Trial, Track, Sportive or Triathlon, your position can affect your efficiency, comfort and consequently your performance. Dave has been studying riding positions for over 40 years. In 2002 he was astounded when he went to the National 25 Mile Time Trial Championships to write an article on time trial positions for 'Cycling Weekly' to see just how many riders had awful positions on their bikes.
With the use of the computrainer, the frame fit jig and a digital camera and video, Dave can produce a full size drawing of your 'perfect fit' frame.
| | |
| --- | --- |
| Position Analyses | £100.00 |
Gift Voucher
With our vouchers, you could buy your Partner, Son, Daughter, or whoever, anything from a frame fit at £100, up to a full Ramp and Consultation for £295.
A great surprise for any occasion for your "bike mad" relative or whoever.
BUY YOUR VOUCHER NOW FROM DAVE AND CHRIS!
Bought up to any value
Ideal Christmas present
Something to suit every pocket
| | |
| --- | --- |
| Money off coaching services | £(variable) |